Best Place To Shop Pre-Owned In Virginia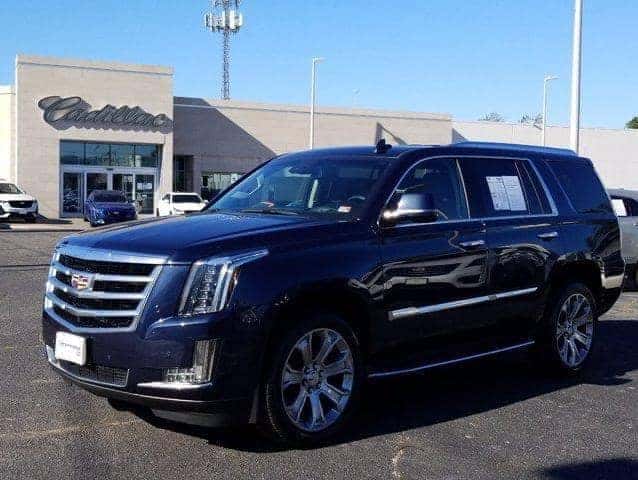 LARGE LUXURY PRE-OWNED TRUCKS & SUVS FOR SALE IN NORFOLK
At Rick Hendrick Cadillac Norfolk, we are committed to providing our customer base in Norfolk, Chesapeake, and Virginia Beach the best pre-owned shopping experience available. Buying a pre-owned luxury SUV, car or truck is an excellent choice full those not wanting to pay new vehicle prices. Our large luxury pre-owned truck and SUV inventory is available, and we're confident that our team of experts can have you drive away in a model that suits your needs today! Consider Certified Pre-Owned Cadillac models or pre-owned luxury SUVs and cars. Our team is looking forward to proving that we're the best place to shop for pre-owned models.
Shop All Pre-Owned
Shop Certified Pre-Owned
Shop Pre-Owned Luxury
WHY BUY PRE-OWNED FROM RICK HENDRICK NORFOLK CADILLAC?
LARGE LUXURY SELECTION
We have an extensive selection of pre-owned luxury models that fit will fit any customers needs. We are able to offer an extensive selection of Cadillac, BMW, Acura, Lexus, Audi, and Mercedes-Benz models. Search our very large pre-owned luxury inventory selection to find a SUV, car, or truck that best suits your lifestyle.
GREAT CUSTOMER SERVICE
You have come to expect a superior experience when buying a new Cadillac. We are proud to offer the same luxurious experience when buying a pre-owned vehicle. Our staff are automotive experts and ready to help you make your selection today! Not sure which pre-owned model to purchase? Our team of luxury and pre-owned experts are available to answer your questions.
BEST QUALITY VEHICLES
Our pre-owned team is able to source the highest quality vehicles in the area. Why? As a Cadillac dealer, we receive high quality, low mileage vehicles in our trade in deals. We are also part of the Hendrick automotive network which gives us access to quality vehicles nation wide.
Pre-Owned Vehicles Frequently Asked Questions
What to Look For When Buying a Used Car?
The most important part of the car-buying experience when buying a used vehicle is trust. Luckily, as your trusted Cadillac dealer, buying a used Cadillac car or SUV from Rick Hendrick Cadillac Norfolk means our sales team is helping you look for a used vehicle with low mileage, low price, and in excellent condition. We also carry vehicles of all makes and models, so be sure to check out our extensive selection of reliable used vehicles and we'll help make the process easy!
How Much Does A Used Cadillac Depreciate?
After buying and driving a new SUV or car off the lot, it has likely already lost much of its original value. Luckily, buying a used Cadillac SUV or used Cadillac car is beneficial because its value is at a more steady level and will only slightly depreciate over time compared to a new vehicle.
Is it Easier to Finance a Used Vehicle? 
Along with the attractive sticker prices, used Cadillac SUVs, such as the timeless and powerful used Cadillac Escalade, are also cheaper to finance than their newer models! When you're buying a used Cadillac in Norfolk, Chesapeake, Hampton, Virginia Beach, and surrounding areas, the amount you need to borrow is lower, which makes your down-payment a larger percentage of your purchase, which brings your interest rate down.
Are Insurance Rates Lower on Used Vehicles?
No matter the make or model, typically, insurance rates decrease around 3.4 percent for every year a vehicle ages. So, you can expect to be able to put more money back in your pocket with lower insurance rates on your used car, truck, or SUV. In other words, you'd be paying less for a used vehicle, each month, that drives just like a new one!