Pre-Owned Cadillac SUVs For Sale Near Virginia Beach
Are you searching for a high-quality luxury vehicle without the new price tag? Rick Hendrick Cadillac Norfolk proudly serves as your Luxury SUV Headquarters. We have several pre-owned Cadillac SUVs for sale, and we incorporate various other luxury makes into our selection as well. We carry various pre-owned Cadillac SUVs such as pre-owned Escalades, pre-owned XT5s & pre-owned XT4s. Get luxury Cadillac features at a reasonable price, and if you are still worried about quality – consider shopping our Certified Pre-Owned selection. Our Certified Pre-Owned Cadillacs undergo rigorous multi-point inspections which grant you all standard Cadillac Ownership Privileges. Shop the pre-owned Cadillac SUV and pre-owned luxury selection today!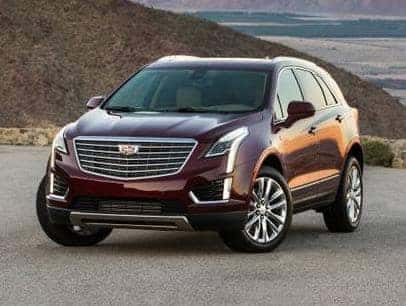 Steps To Take When You're Interested In Buying A Pre-Owned Cadillac SUV
1. Determine your budget.
2. Shop our online inventory for a pre-owned Cadillac SUV that catches your eye.
3. Contact us to schedule a test drive.
4. Visit our dealership to discuss financing options.
5. Drive away in your luxury SUV.
Why Buy A Pre-Owned Cadillac SUV?
Overall, pre-owned Cadillac SUVs hold their value for a long period of time. If you have found yourself wanting the perks of luxury without the price tag, consider visiting our Rick Hendrick Cadillac Norfolk dealership to see our collection of pre-owned inventory. At our dealership, you'll find a plethora of pre-owned Cadillac XT5's, a luxury SUV our team cannot recommend enough. Our team will address your concerns, help you find the perfect pre-owned Cadillac XT5 that suits your style and budget, and carefully examine your financing options. We'll often have Certified Pre-Owned Cadillac XT5s and other certified SUVs at our dealership, which gives you additional reassurance. We hope to see you at our Cadillac Norfolk dealership near Virginia Beach soon.
Why Buy A Luxury Pre-Owned Cadillac XT5?
Technically a midsize luxury SUV, when you get inside this Cadillac, you'll question everything you thought you knew about midsize SUVs. The Cadillac XT5 has over 60 cubic feet of space and no matter the model year, feels as luxurious now as it did at its beginning. This luxury SUV has been one of our most popular selling vehicles for several years now, so finding the ideal pre-owned Cadillac XT5 is only getting easier with time. Buying a quality pre-owned XT5 is something our Rick Hendrick Cadillac Norfolk Dealership recommends to anyone looking into the midsize range. Cadillac is known for reliability and the brand stands the test of time. Check out this article to learn more about the many reasons a pre-owned XT5 could be right for you. Our team of pre-owned luxury experts is happy to explain the inspection process and answer any questions you may have. Contact us today.
What Is The Best Pre-Owned Cadillac SUV To Buy?
The Cadillac XT5 is one of the best and most common luxury pre-owned SUVs to buy! 29 MPG, 301 Horsepower, 258 lbs of torque, Auto Stop technology, plenty of convenient space for cargo, and more outstanding features. Of course, the specifics may vary year to year, the integrity of the SUV stands true. The luxury interior along with safety and updated technological features made the XT5 one of the most popular luxury SUV options. But when you look at pre-owned Cadillac SUVs, you really can't go wrong with any of them! We're confident that our luxury SUV selection will stand out for you.
What Are All The Cadillac SUV Models?
SUVs from Cadillac are as dynamic as they are popular. Cadillac SUV lineup are the XT4, XT5, XT6, Escalade, & Escalade ESV. All are uniquely different with remarkable features! Contact us today to help you with any concerns about a specific model!
Should I Buy A Pre-Owned Cadillac Escalade?
Is bigger really better? When it means you get a more luxurious Cadillac interior with an undeniably classic outer appearance, is that really even a question. Unmistakably Iconic since it took the market by storm in 1999, this luxury SUV is the epitome of style. Now in its fifth generation of redesigns, it's easy to find a pre-owned Cadillac Escalade in the exact model year you're looking for. Check out our pre-owned inventory and join the exclusive club of Escalade owners in the Norfolk area today!